Paradigm Cinema100 CT - 5.1 Speaker Set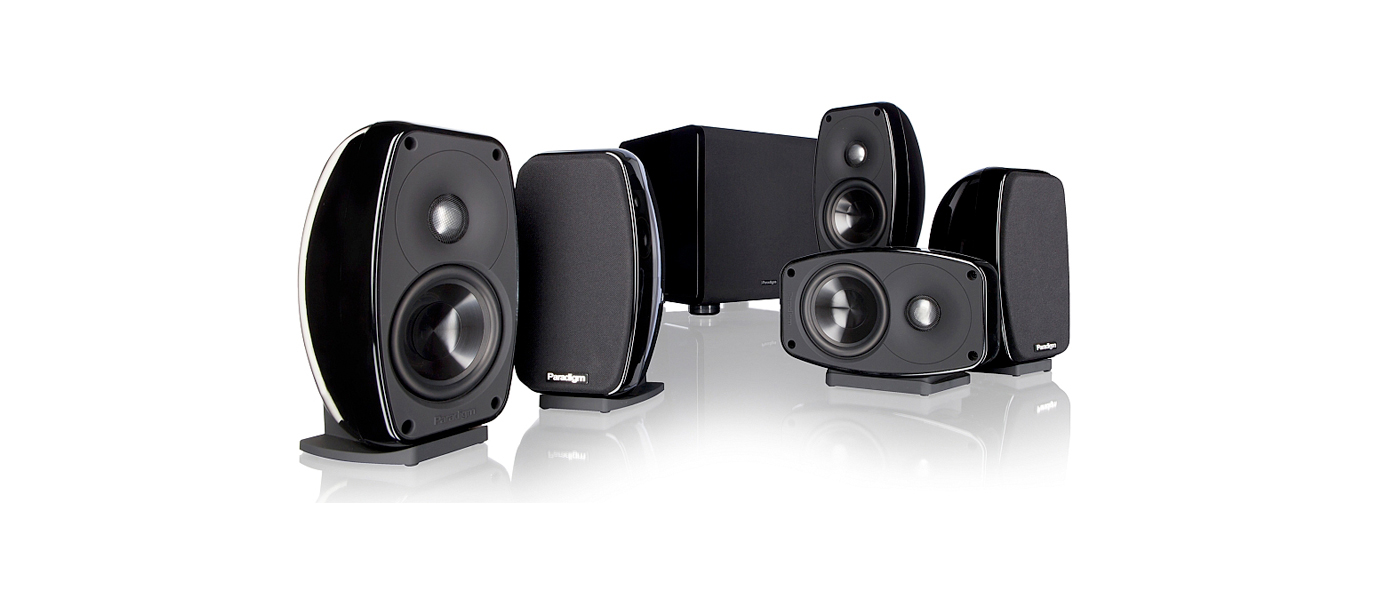 Paradigm Cinema100 CT - 5.1 Speaker Set
2-driver, 2-way acoustic suspension, mineral-filled polymer enclosure
Crossover 2nd-order electro-acoustic at 1.8 kHz
Frequency Response On-Axis ±2dB from 125 Hz - 20 kHz
Frequency Response 30° Off-Axis ±2dB from 125 Hz - 15 kHz
High Frequency Driver 25-mm (1 in) S-PAL™ dome tweeter, ferro-fluid damped and cooled
Mid/Bass Frequency Driver 90-mm (3-1/2 in) mineral-filled polypropylene cone, 25-mm (1 in) high-temperature voice coil, advanced motor structures and oversized ferrite magnets
Low Frequency Extension 85 Hz (DIN)
Sensitivity Room / Anechoic 88 dB / 85 dB
Impedance Compatible with 8 ohms
Suitable Amplifier Power Range 15 - 100 watts Max Input Power 50 watts
Finishes Black Gloss
Weight 21.4 lbs. (1.8 kg)
Dimensions HxWxD
8.375" × 4.8125" × 6.8125"
(21.3cm × 12.2cm × 17.3cm)
Subwoofer Design: Single driver, bass reflex, high-velocity low-turbulence resitive ports, built-in amplifier, flexible positioning: gloss side up or cloth side up with feet
Amplifier 300 watts Dynamic Peak; 100 watts RMS Sustained
Amplifier Features: Auto-on; standby; soft clipping, Low Pass Filter Frequency
Variable 35 Hz - 150 Hz; Bypass Option
Low Frequency Driver 210-mm (8 in) high-excursion reinforced co-polymer
Low Frequency Extension 32 Hz (DIN)
Sub / Sat Phase Alignment Variable 0° - 180° - Impedance 10k ohms
Compatible Products: PT-2 Wireless Transmitter (sold separately)
Weight 21.4 lbs. (9.7 kg)
Dimensions HxWxD
13.4375" × 12.6875" × 12.6875"
(34.1cm × 32.2cm × 32.2cm)
Paradigm Cinema 100 CT review
The Paradigm Cinema 100 CT is an outstanding speaker system. It boasts luxurious build quality and performance that's a cut above your average compact package. That's largely thanks to the subwoofer, which harnesses Paradigm's considerable expertise in that particular field with tight, agile and muscular bass, but the sats play their part with a beautifully open and composed performance. Most impressive is how it makes you believe you're listening to much bigger speakers, offering presence and authority beyond the norm – the mark of a truly triumphant compact system.
—Danny Phillips, Trusted Reviews
 
Paradigm 100 CT and Cinema Sub loudspeaker review
Voices were clean and uncoloured, even when Hollywood's finest are shouting, and the sheer size of the sound belies the size of the boxes. This really is a system for someone who craves a big sound but wants to avoid room-dominating speakers... Paradigm's 100CT speakers, and the subwoofer that goes with them, form a bit of a wonder package.
—Adam Rayner, Home Cinema Choice
 
Paradigm Cinema 100 CT (Compact Theater) Speaker System Reviewed
The Paradigm Cinema 100 CT system is a wonderful-sounding achievement that also looks good and is friendly on your wallet at just under $1,000. You are going to have to spend significantly more to best them if you're shopping for a complete 5.1 speaker system package. The Cinema 100 is more than capable in small to medium rooms, but what sets it apart is how comfortable the system is with music. Don't discount movies and gaming, though, for the Cinema 100 is exceptional in those arenas, too. Furthermore, the Paradigm Cinema 100 CT is extremely forgiving of sources and source material, which means it doesn't need the highest level of separates to perform at its best. All of these factors make the Cinema CT a well-balanced 5.1 system for any occasion.
—Alex Lezcano, Home Theater Review


Paradigm Cinema 100 CT 5.1 Speaker Package Review
If you can get away with slightly larger satellites, if you can get away with a subwoofer that doesn't need to slide behind your sofa, then here is a package that actually delivers a sound that feels like the floorstanding loudspeakers that you've already decided you can't shoe horn into your room. The scale of sound this package delivers is epic, relative to the real estate it asks you to give up to accommodate it... The Cinema 100 CT successfully trades a slight compromise in size, for a lot less of a compromise in performance and so should you.
—AVF Staff, AVForums
 
Paradigm Cinema 100 CT 5.1 Speaker System
I was surprised - make that pleasantly surprised. Both by the sound the Paradigm Cinema 100CT produced and just how much I enjoyed them in my room. Sure they looked tiny and they were not up to my reference speakers quality of music reproduction. But for TV and movies they were plenty of fun...at the top of my list for a secondary TV and light music system. If your room is not overly big and as long as you can place the sub up front, close to the mains will make a nice discreet 5.1 system.
—Jared Rachwalski, Secrets of Home Theater & High Fidelity

 
Paradigm Cinema 100 CT Home Theater Speaker System - Review
The Paradigm Cinema 100 CT is a great example of well-styled and engineered speaker system, that delivers great sound for reasonable price... The Cinema 100 CT does a great job with both movies and music and, unlike many compact systems available at big-box stores, does a respectable job in the bass dept.
—Robert Silva, About.com